What is LAURICIDIN®?
Lauricidin® is pure sn-1 monolaurin (glycerol monolaurate) derived from coconut oil. The same monolaurin received from mother's milk, saw palmetto, and bitter melon – embraced by both your immune system* and your digestive tract*.
Health Professional-recommended and 100% nontoxic, Lauricidin® is safe for your entire family.
Lauricidin® is all-natural, free from potential drug interactions and coconut allergens.
Our monolaurin is a natural, plant-based medium chain saturated fatty acid extracted from coconut oil that offers unique health-promoting properties*.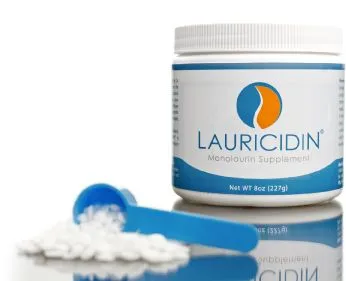 Why is LAURICIDIN® Different?
Mothers know – Lauricidin® is a natural ingredient, first discovered in mother's milk, but also present in coconut oil and a variety of plants.
Pure support – It's a 100% non-toxic pure nutrient that supports everyday good health and wellness*.
Plays well with others – It can be taken with most other supplements and medications. Always check with your healthcare provider when taking supplements with your medication.
A Class of Its Own – Lauricidin® is 95%+ pure monolaurin backed by 40+ years of research & development and free from additives, preservatives and fillers found in other brands.
There is no comparison – Monolaurin capsules are more expensive per "dose" or serving size as they may only contain 40-50% monolaurin.
Global Stamp of Approval – Health professionals all around the world recommend Lauricidin®.
These facts are no surprise to us, Lauricidin® is the original monolaurin, discovered in the 1960's by our company's founder Dr. Jon J. Kabara, PhD.
Call us for more information about Lauricidin.